EDIT: MY NET IS CAPPED TO 64K. DAMNIT! -_-
Mum is making donuts currently. ;D <5 min later> Om nom nom nom nom. Sugar and cinnamon. Delicious.
Anyway! My Paris Windows package is shipped and I'm expecting it tomorrow?
Jan 18
10:41
Departure from inward office of exchange
SYDNEY D
AUSTRALIA

EDIT:
YAYYYY
| | | | | |
| --- | --- | --- | --- | --- |
| | Jan 18, 2009 | 21:5335 | AUSTRALIA - BRISBANE | Transferred for delivery processing. |
I went to a party last night and some random dogs arrived o_o one was a reallly cute husky?cross? Soooo cute. They must have got like, 5 sausages each that night since they were so damn cute.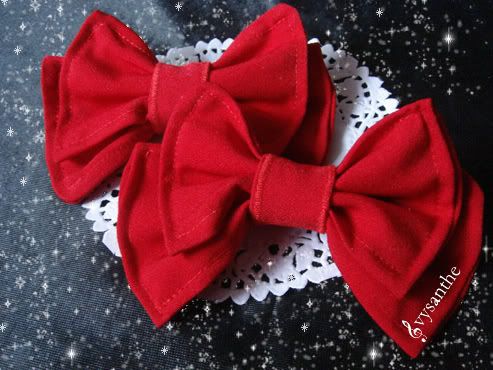 Also, Jackie commissioned me to make her a headbow that matches her blue skirt so here it is! It's an AP replica, more casual than head-eating, though I omitted two rows of flower lace. I could only find the iron-on type at $8,99/m, screw that >_>.. I I also made her some of the little red bows I have a pair of.. and since there was only one bit of material left I made some plain red ones too. I really love this material, I have no idea what it's called, i've had it in my scrap pile for a year or more... Anyway, they have brooch pins on the back but my own ones also have hair clips too. I was going to sell them but I'm quite fond of them now :) Maybe later~?